10 Days Uganda Rwanda Congo Safari
10 Days Uganda Rwanda Congo Safari is the ultimate adventure trip into the apes and primates along side watching the big five in the magical national parks destinations that are well known as top notch places to visit while on an Africa safari holiday with Rwanda Safaris the leading local safari company in tailoring multi country adventures.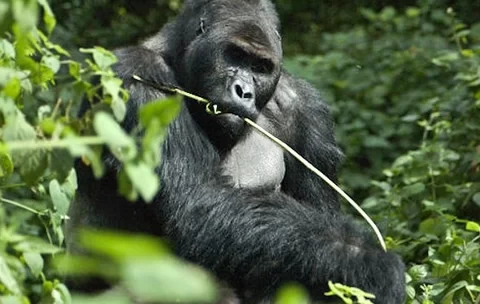 The 10 Days Uganda Rwanda Congo trip is the alternative for 9 Days Rwanda Uganda Safari and it starts from Entebbe Uganda, with the unique visit to the chimpanzees in Kibale National Park , Queen Elizabeth National park for the unique adventure watching of the tree climbing lions , and other cats on game drives , Gorilla Trekking in Bwindi Impenetrable National park , Golden Monkey Watching in Volcanoes National Park & Eastern Lowland Gorilla trekking in Kahuzi Biega National Park.
10 Days Africa Safari is unique in a way that it grants you the great opportunity to compare the Mountain Gorillas & Eastern Lowland Gorillas in the wilderness of African Parks that are the natural habitats of these primates! Book Uganda Rwanda Congo Safari tour staying in Luxury Lodges with the expert guiding services of Rwanda Safaris Guide at the best prices!
 Trip Summary
Day 1: Transfer to kibale National Park
Day 2: Chimpanzee Tracking in Kibale Forest national Park
Day 3, Transfer to Queen Queen Elizabeth National park
Day 4: Game drive & Boat cruise
Day 5: Transfer to Bwindi Impenetrable National park
Day 6: Gorilla Trekking & Transfer to Volcanoes National park
Day 7 : Golden Monkey Tracking & Transfer to Gisenyi
Day 8: Transfer to Bukavu Congo
Day 9: Eastern Lowland Gorilla Trekking
Day 10: Transfer to Kigali for Flight back home.
Notes & Advises
Visas: For Uganda & Rwanda, we advise you apply for the East African Tourists visa . Democratic republic of Congo visa will be handled by Rwanda Safaris on your behalf.
Activities
Chimpanzee Tracking in Kibale National Park
Wildlife watching & Boat Cruise in Queen Elizabeth NP
Gorilla Trekking in Bwindi Impenetrable National Park
Golden Monkey Tracking
Donation at Ellen De Generes Campus
Boat Cruise on lake Kivu
Eastern Lowland Gorilla Trekking in Kahuzi Biega
Kigali City Tour